Touch of Forever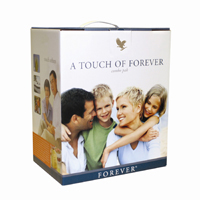 Purchase Touch of Forever by clicking HERE!
The full size Touch of Forever Combo Pak:
Aloe Vera Gel, Forever Bright Toothgel, Aloe Lips, Aloe2Go Pouch (3), Freedom2Go Pouch (3), Arctic-Sea, Avocado Bar Soap, Aloe Heat Lotion, Ever-Shield Deodorant, Garlic-Thyme, Fast Break Bar, Aloe Vera Gelly, Aloe-Jojoba Shampoo, Pomesteen Power, Royal Jelly, Forever Kids, Bee Pollen, Fields of Greens, Probiotic, Bee Propolis, Ginkgo Plus, Ultra Aminotein Vanilla, Argi+, FAB (1 can), Aloe Blossom Tea, Absorbent-C, Aloe Liquid Soap, Aloe-Jojoba Conditioning Rinse, Aloe Propolis Crème, Forever Hand Sanitizer, 1 pack of Product Brochures with price and 1 USB Drive. (Contents are subject to change)
In California Freedom2Go will be replaced with Aloe2Go.
Shop with DISCOUNT – become a Forever Living Products Distributor